For a new build house you need to do your best to get a lighting plan that works as best you can for different times of the day and functions. For instance, in the living room, in the evening you may want dim lighting and only have lighting in certain areas of the room instead of being blasted with downlights everywhere.
Head over to electrical plans and home automation for more information in those areas and pricing. These lighting tips and examples will help you plan for your new homes electrical plan.
Lighting Placement Tips
The lighting options here are just a few to consider and a professional lighting consultant would be able to provide a more suitable lighting plan for your home overall. Use this as an initial guide and also think of how you use the space to consider what lighting you want.
Porch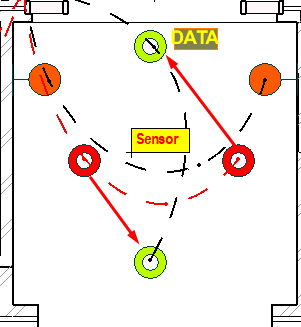 The downlights are placed so that when you enter the space it lights up the entry. The downlight by the door is there so that when its dark you can see the lock more clearly.
The lights on either side are on a different connection which is there more for aesthetics but positioned close to the door to more easily view the lock.
Bedroom Lighting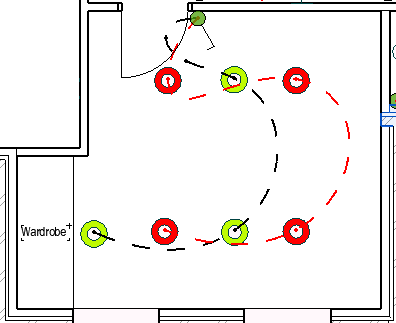 Depending on the size some people go for 2 or 4 lights in a bedroom, possibly more if its a large space. When you think of using the space it might be that you normally use it at night and dont want such a bright space. 4 lights with a dimmer could work or 2 in this space should be enough. Theres a 3rd light by the wardrobe so that theres enough light inside when its open.
Lighting over the bed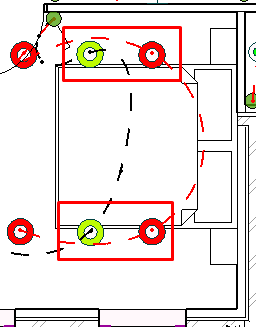 Downlights shouldnt be over the bed but rather to the side of the bed.
Bathroom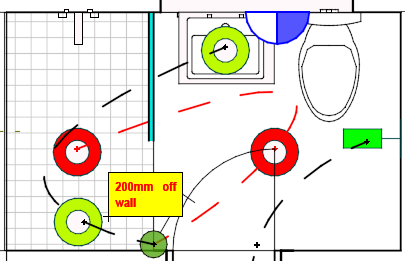 The light by the vanity is placed above the sink as opposed to the middle of the room as a shadow would be cast from this. When looking at the mirror you are able to light up your face by doing this.
The light by the shower is placed to set enough lighting for a shower and not to cause too much direct light and shadows.
Vanity Lighting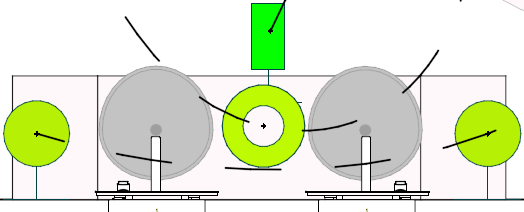 There are wall lights on either side of the mirrors however LED mirrors could be used instead. A downlight is also placed over the vanity to be able to light a persons face. The rectangular light is a step/tread light which could be a strip light that runs under the vanity.
Laundry Room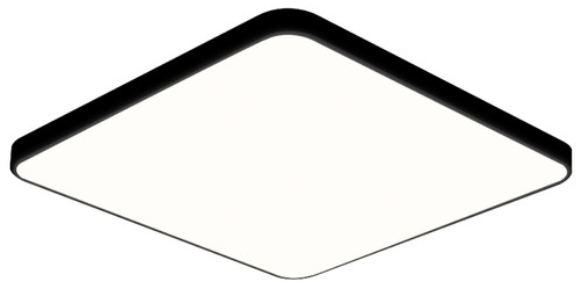 Two downlights evenly spaced should be sufficient. If you don't have a window by the sink then you can consider a downlight above it. Alternatively you can use a single different type of dispersed light source instead of a downlight that can illuminate the room though it may not look as nice as a downlight.
Media/Theatre Room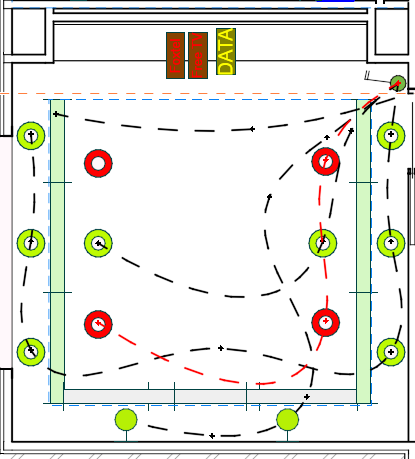 Theres a few options for a media room to consider. You might be using the room initially as a kids playroom and then changing to a theatre room. If its a standard room the lights in red would likely be sufficient. As you can see there are different circuit to create different moods.
Lastly, in the coffered ceiling there are strip LED lights. These might be limited to 5m but you can get longer. If you want to add a star ceiling you probably dont want downlights in the coffered section so the 3 downlights on either side by the wall could be an option. There are two wall lights which could be dimmed while watching something.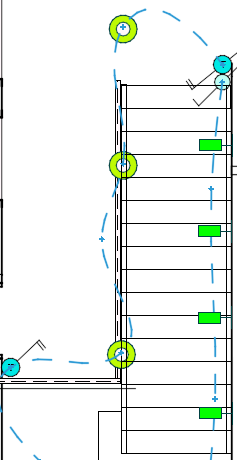 Step lights or LED strip lights under each stair can add a nice decorative touch. Importantly, ensure you have these on a two way switch. Place the downlights on a 3 way switch so they can light up the entry as you enter the home and when you go to bed.
Master Bedroom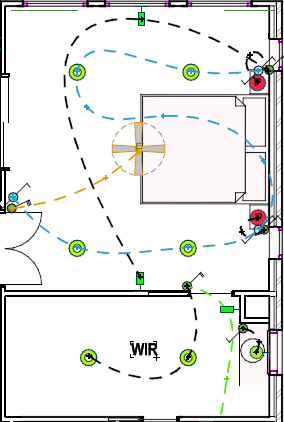 Downlights – Given this is a larger master 4 downlights would be suitable. Some people might decide to use 6 but its likely going to be too bight to have them all on with full brightness.
Pendants – For task lighting and to have a single night light on pendants can work well here. As you enter the room it might be a good idea to be able to turn them on from here not to wake up your partner and have it on a two way switch by the bedside.
Step/Tread lights – When you need to go to the bathroom in the evening these can provide enough lighting to walk around the room and not to wake your partner. Waking up with a switch by the beside would be convenient. In addition, another set of tread lights by the WIR which would light up those areas.
Wall lights –
In the walk in robe you may decide to have a wall light or led mirror by a vanity desk.
Passage Lighting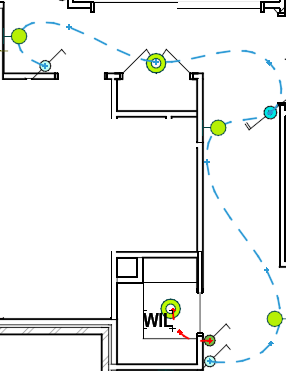 Besides downlights for lighting up a passage, LED strip lights or wall lights provide a soft light. Furthermore its important to be able to turn on and off the lights from different areas of the passage.
Living Room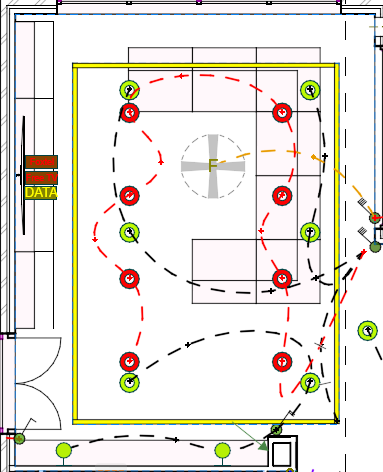 In many cases you will see recommendations to just have downlights positioned in an even grid as shown in the red downlights. If you prefer a symmetrical look and intend to use dimmers this might work for you.
In the evening you might want only some lights on and possibly dimmed. The downlights as the back of the sofa are on their own circuit and so are the other 4 so they can be turned on for different scenarios.
The downlights by the sofa are also placed behind the sofa instead over the seats as they can be uncomfortable.
The wall lights are both decorative but can also be used if you want background light when watching TV.
The LED strip lights in the coffered section can be run on their own too.
Alfresco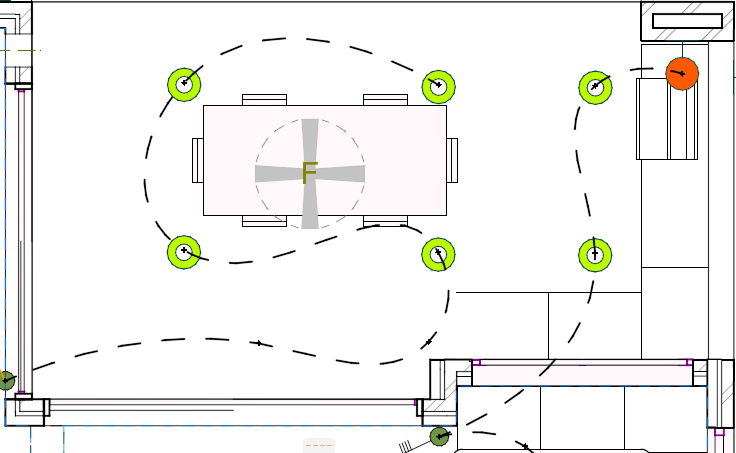 Dividing the circuits into two allows for one to the dining area and the other for the barbeque. There is a wall light for the BBQ too which provides more direct lighting
Kitchen
Pendants
Consider placing pendants (1) evenly across the island. You can choose between individual lights or one long pendant. There is also a pendant over the breakfast nook and you can also place them over the dining table instead of having downlights (2).
Downlights
These can provide good lighting around the kitchen but think about placing them adjacent to instead of behind areas like the cooktop, fridge and oven to maximise lighting. Downlights arent needed everywhere like no. 7 which doesnt light up a specific area. No. 8 is placed closer to the cooktop but you might prefer even spacing of the lights.
Under cabinet LED Strip Lights
Placing these under cabinets provide a uniform lighting to the bench. Ask the cabinet maker to provide a recess to fit these in. These will hide them from plain sight. You can use either a COB LED strip or use a diffuser so that the dots arent visible.
Sink Lighting
Similar to the bathroom sink lighting, place a downlight over the sink (5) instead of behind it to limit shadows.
Two way switches
Think about when you walk into the kitchen from the garage and then when you go to bed. You may want to switch off the lights from different areas of the room using a two way switch (6).
Adding lights after handover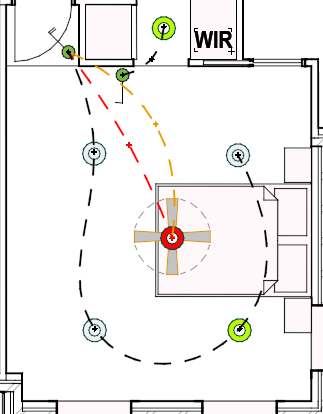 In a double storey home the ground floor is an area where its very expensive to add or change lighting afterwards as the gyprock would need to be cut, patched and painted. On the first floor, if the roof is pitched then its possible to add downlights or pendants afterwards as access is possible without ripping up the ceiling.
If you intend to add lights afterwards ensure you have a circuit to one light in the ceiling which can be a batten or a downlight. Try place the one light in a location where you would place it if you had all the lights initially installed and not central to the room as that would need to be patched up afterwards.
In the example below the downlight in red is in the center of the room however if you wanted 4 downlights later on you would need to patch this. So instead you can place the downlight in the far corner. The downlights in grey are the ones that would be added later. Its also positioned in the far corner because the roof line slopes towards the end of the house so access would be more limited at that end instead of closer to the the bedroom door.
You can also see that the wardrobe light has been done and that's because adding a new circuit with a switch is difficult to do afterwards as its harder to reach the middle of the wall from the roof given the timber frame that blocks it.
Downlight options
Types of downlights
SMD – Multiple light sources are attached together. More glare comes from these and they are cheaper.
COB – These have a single light source with a reflector and provide a more uniform light with less glare. They are also used for architectural purposes as they can look nicer than SMD.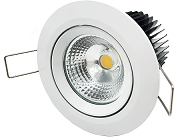 Locations for use
IC-4 – These can be safely covered with insulation
IP-44 – Can be used around wet areas
Types of downlights
SMD – Multiple light sources are attached together. More glare comes from these and they are cheaper.
COB – These have a single light source with a reflector and provide a more uniform light with less glare. They are also used for architectural purposes as they can look nicer than SMD
CRI (colour rendering index)
This is the quality of light which means a higher CRI rating will render colours of the items its lighting to be more accurate. They generally are 80 and good ones start at 90.

Colour Temperature
Colour temperature will generally range from 2700-3300K (warm) to 3300-5300K (cool) and to 6500K (daylight). Many will have switches directly on them to change between them but you have to set this before installing. You can get smart downlights that can do this remotely.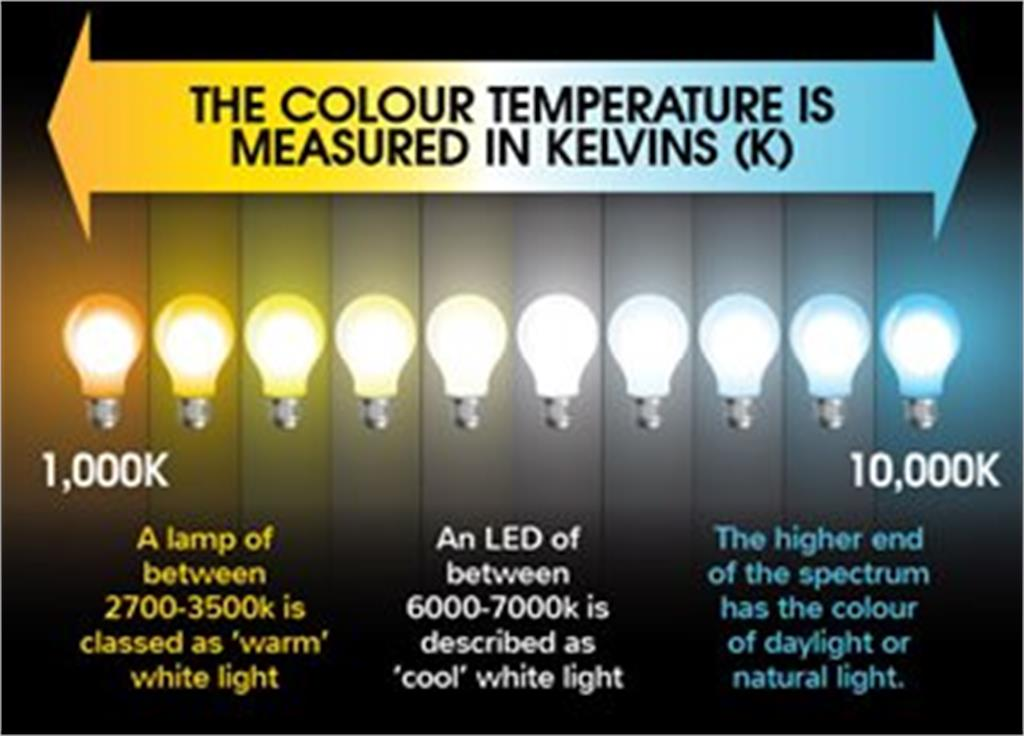 RGB Colours
Downlights can come with options to change colours not just the warmth remotely. These can be controlled through an app or a remote. More information can be found further down under home automation.